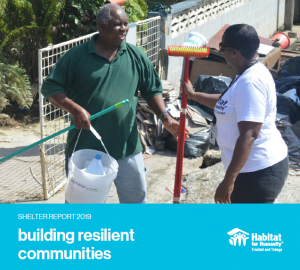 Habitat Trinidad and Tobago is pleased to share our latest Annual Report with you.
For the last  23 years, we have empowered many citizens of Trinidad and Tobago to achieve a better quality of life through safe and affordable housing.
Since 1997, we have served 877 families with shelter solutions – new houses, repairs, renovations, completions – and trained 4,951 people. We have supported almost 25,000 people in their quest for
safe, decent, adequate and affordable shelter!
During the past year, we've been able to provide 130 shelter solutions, raised TT$5.9m in funding and facilitated 6,028 volunteer hours.
To see all of the highlights and accomplishments from the last year, please click here.
If you have any questions or comments, please share them with contactus@habitat-tt.org.
Click here to make an online donation to support our work. You can also donate through our Republic Bank account #180482534101.