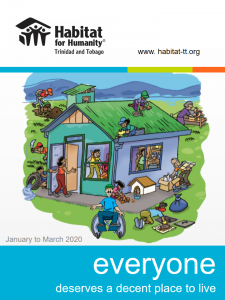 A little late, due to the COVID19 lockdown, but giving you a taste of what's to come in our 2020 Annual Shelter Report – ENJOY!
In this edition ….
A message from the National Director … "The days ahead will be difficult, but we at Habitat Trinidad and Tobago remain committed to supporting the most vulnerable among us at this time. It's crises like these that signal how
important our work is – more people than ever before in this country are now at risk of losing their homes and facing an uncertain future.
COVID19 Mythbusters and Sign Language Interpretation for the Deaf and Hard of Hearing … "Using information compiled from the World Health Organization, we have prepared an easy-to-access download to share with your friends and family. We are hoping to dispel some of the misinformation spreading about the pandemic. Please email us at contactus@habitat-tt.org to access the file!  We also produced a public service announcement in collaboration with #TeamLegen and #ThePositivesInTandT to disseminate #COVID19 information in Trinidad and Tobago Sign Language."