Housing Access for Vulnerable Groups
Everyone deserves a safe, decent and affordable place to call home.  That is why Habitat for Humanity, in collaboration with the Caribbean Policy Development (NGO) Centre and the European Union, is working with the Disability Organisations, NGOS supporting the LGBTQI Communities and HIV/AIDS civil society organisations, to make affordable housing easier to access for everyone.
You can complete our survey here:
<iframe src="https://docs.google.com/forms/d/e/1FAIpQLSdOHk9aiTYdllPlBV34k-k0o4PVJkTQwYEehBtneIO7sET8ew/viewform?embedded=true" width="700″ height="520″ frameborder="0″ marginheight="0″ marginwidth="0″>Loading…</iframe>
September 2017
Help rebuild the Caribbean after Hurricane Irma!
September and October 2017
Habitat for Humanity Trinidad and Tobago has invited the High Commissioner of Canada to Trinidad and Tobago, Mrs. Carla Hogan Rufelds, to take on the role of "Champion" for Women Build 2017. This year,  we will see an entire home built primarily by teams of women for a Trinbagonian family during the month of October, which we celebrate informally in Trinidad and Tobago as "Habitat Month". Habitat for Humanity operates in over 70 countries and has served almost 10 million people with shelter solutions worldwide since 1976. Women Builds take place across the globe, where female leaders gather to give back to their communities and their sisters.
Women Build 2017 in Trinidad and Tobago will help our future Homeowner, Kathy, provide a safe, stable and familiar environment for her family to live independently and in security. The Women Build Project was launched with an invitation-only Women's Breakfast in August, a gathering of prominent and influential women leaders from the diplomatic corps, business, government, the arts and civil society.  Habitat Trinidad and Tobago is encouraging women leaders to join hearts and hands to make a difference and transmit a positive message of hope and empowerment to the most vulnerable in our society. We hope that our women leaders will add their bit as we transform society through partnerships and solidarity.
Please register for the build here!
June 2017

#smallchangeBIGDIFFERENCE
Trinidad & Tobago 1-cent coins will be withdrawn from circulation soon!  Why not send us your coin collection, and let your small change make a big difference in the lives of homeowners throughout our country?
We have buckets that can be used for small outlets, but individuals may opt to bring in whatever bags and boxes they have on hand to our offices or their company's HR/Marketing/CSR departments, and we will make arrangements to hand over the coins.
To learn more, please contactus@habitat-tt.org or 702-4663
March 2017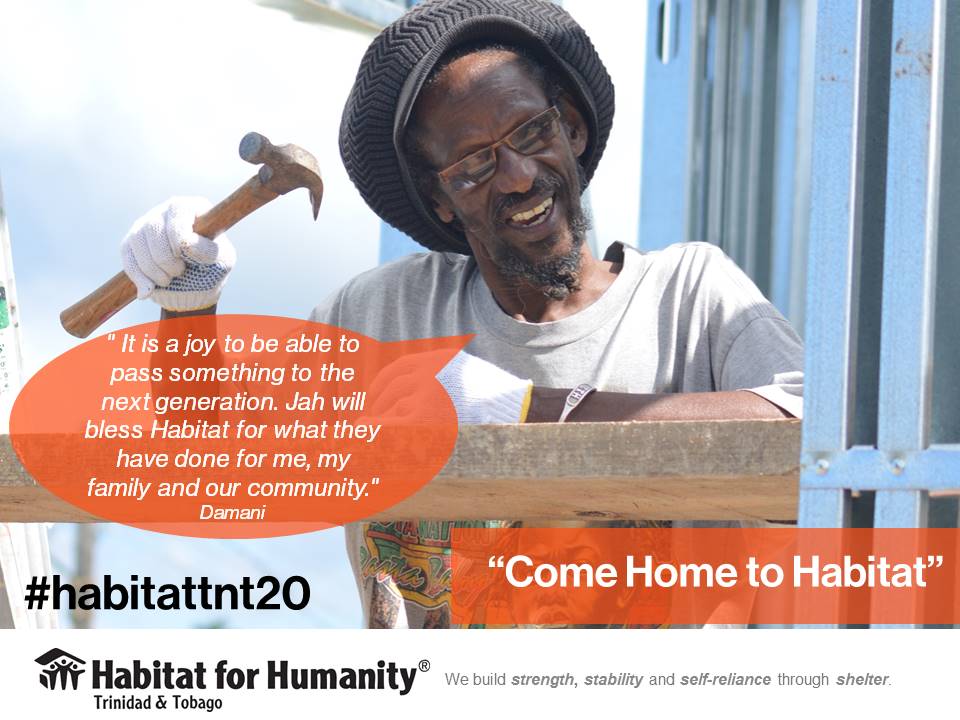 Habitat Trinidad and Tobago celebrated 20 years of service on 14 March 2017 with tributes to our families, donors and volunteers, as well as special events throughout the month to commemorate this milestone.
Joining us for several of the events was Monica Ramirez, Housing and Human Settlements Director – Latin America and the Caribbean at Habitat for Humanity International. During her visit she met persons within government, Habitat Homeowners, major donors and other stakeholders to discuss housing and land tenure issues in Trinidad and Tobago, with special emphasis on the New Urban Agenda adopted in October 2016 at Habitat III.
The major anniversary events were: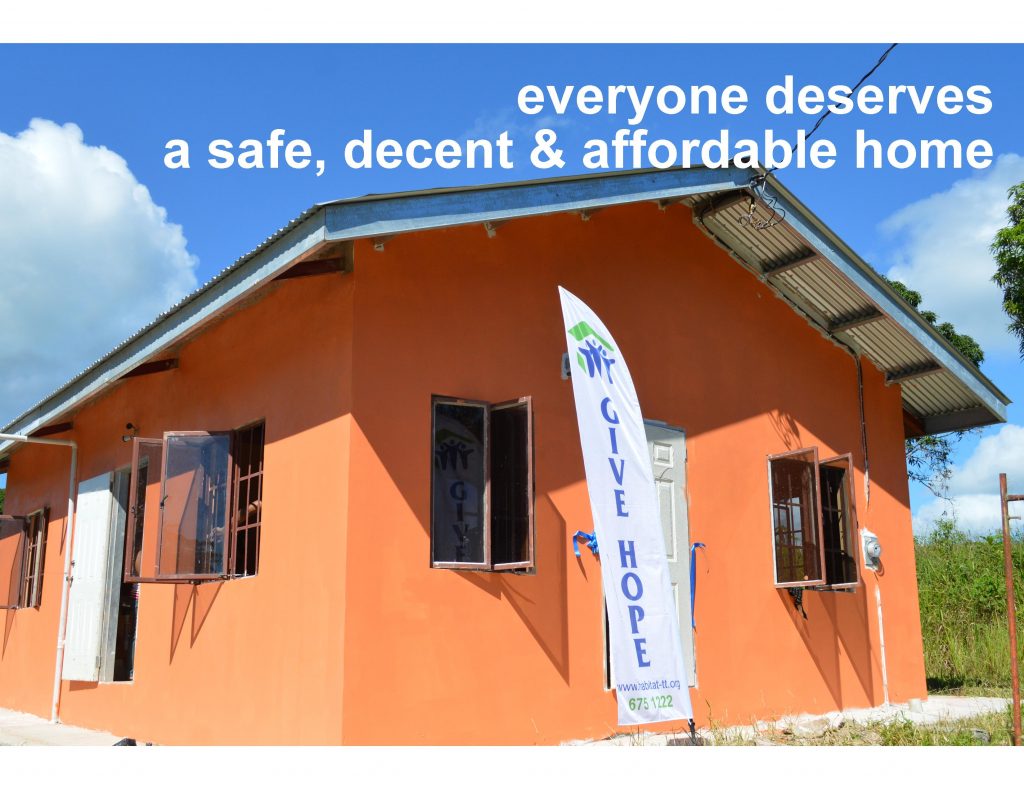 Sunday 12th March – 9am at Cashew Gardens, Chaguanas
Anniversary Brunch with Habitat Homeowners
This was an opportunity to meet the families most affected by Habitat's work, to hear their stories see their transformation, be inspired to do more!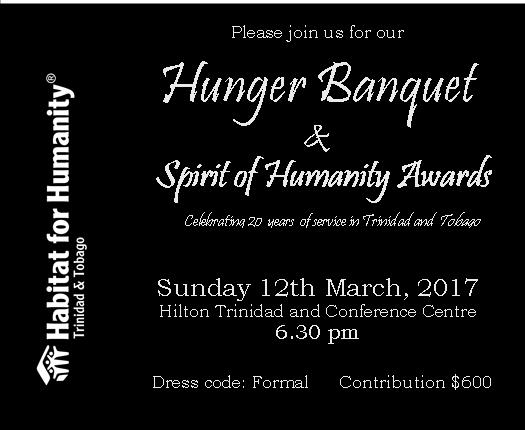 Sunday 12th March – 6.30pm at the Hilton Trinidad and Conference Centre, Port of Spain
Hunger Banquet and Spirit of Humanity Hall of Fame Ceremony
At Habitat's signature gala event, we paid tribute to the homeowners, staff, volunteers, donors and supporters who have helped families throughout Trinidad and Tobago achieve their dream of safe, decent and affordable shelter.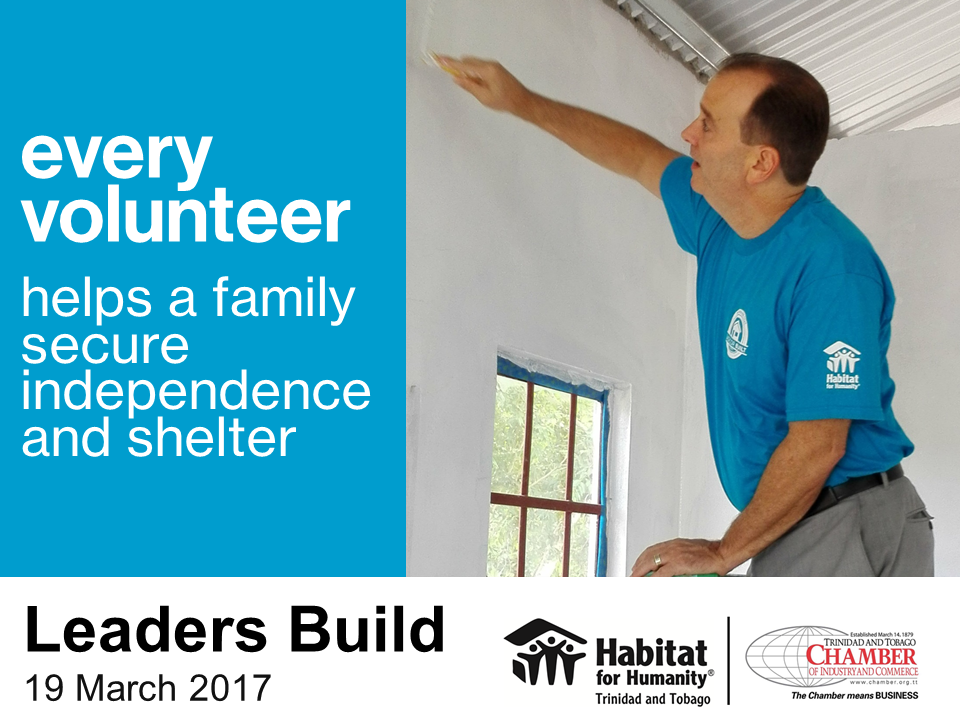 Sunday 19th March – 9am at Damani's House in La Romain
Habitat Leaders Build in collaboration with the Trinidad & Tobago Chamber of Industry and Commerce
An exclusive event where top executives and business leaders worked together to help paint a new home for Damani, a Habitat Homeowner soon to move into the 509th Habitat shelter!   Corporate executives will traded in a day at the office, left behind their suits and smartphones, put on hardhats and tooke up their tools to make a tangible difference in their community.  during the day's work, the house was painted inside and out, while another group tilled the backyard and planted a large kitchen garden for the family.  In just a few weeks, Damani, his son, daughter-in-law and newborn grandchild will be safe at home!
You can find out more about our celebrations on our social networks using the hashtag #habitattnt20 and find out more about our work  from our latest Shelter Report!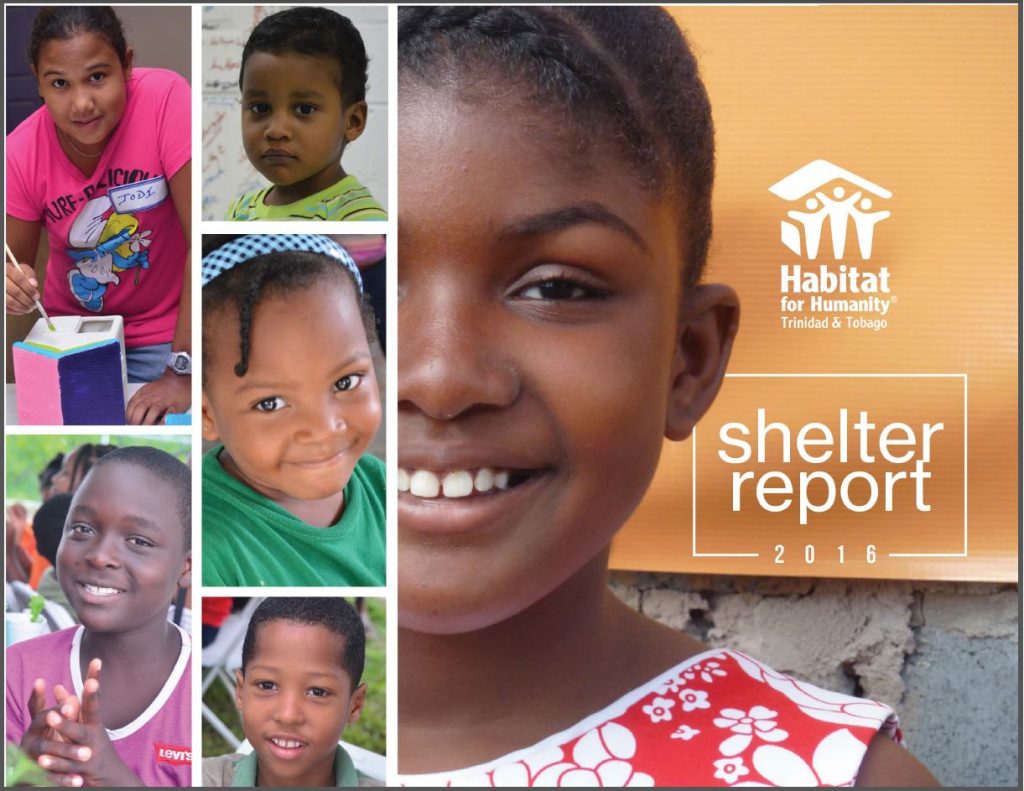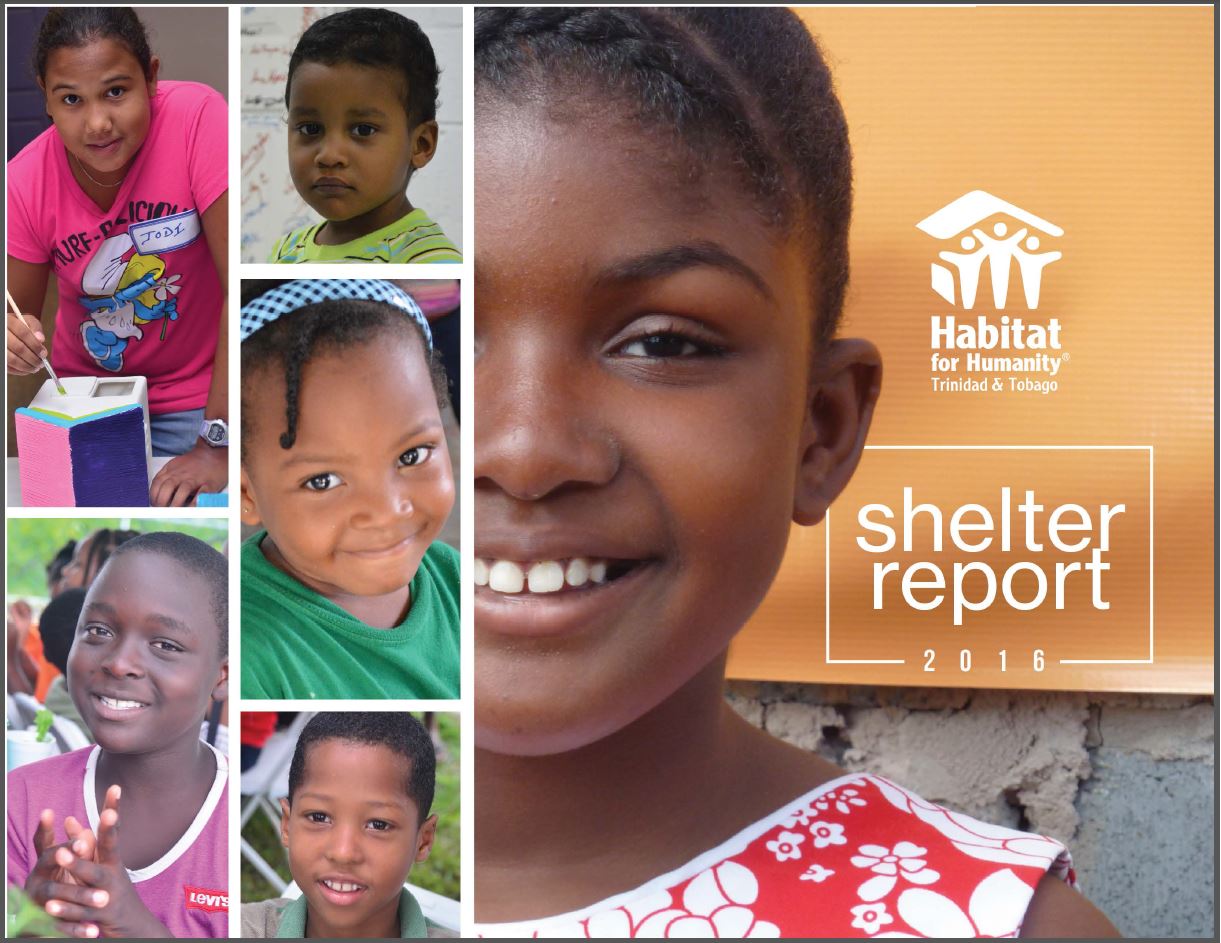 We look forward to another 20 years of service in Trinidad and Tobago!