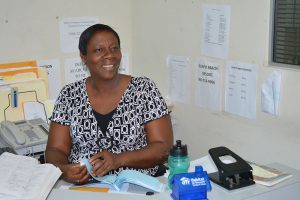 Our Response to the COVID19 pandemic
Dear Homeowners, Dear Families:
We are liaising individually with those who have lost income due to the mandatory closure of non-essential services and businesses.  As we asked you to do at your First Family Training, please do not hesitate – call your community officers to discuss your circumstances and let us together work out how to handle your monthly mortgage payments. Don't forget to check with your bank for their arrangements to accommodate your transactions, and be sure to carefully follow the recommendations and directions of the authorities to stay safe and at home if you are not an essential service worker.
Habitat Trinidad and Tobago is very aware of the importance of our construction efforts to your lives, our family partners.  Nonetheless, we must also do our part as responsible citizens to abide by the decisions made by the government to manage the current evolving crisis. This is why we paused all activities on our construction sites during the period March 30, 2020 – May 31, 2020, to support the efforts to curtail the spread of COVID-19.
Yes, this means that it will take longer to complete your projects. Therefore, now that we are allowed to operate under strict sanitation guidelines, we are treating all on-going builds as high priority jobs so that we can complete them as soon as humanly possible.  Please send any questions you may have to homeowners@habitat-tt.org and know that we are all in this together. The situation is still fluid, but we promise to share more of our plans with you as soon as we can. And do reach out to our team if you have any questions, comments, suggestions or requests for resources.
Thank you for being a part of the Habitat Trinidad and Tobago Family, and supporting our critically important work to build a country where everyone has an affordable place to live. We are in this together – Board, management, staff, homeowners, donors and supporters – as we come together as a family, and a country to weather this storm together.
Stay Safe
Stay At Home
Isolate and Quarantine
*************************************************************************************
Habitat works in partnership with families in your community to build and/or repair decent and affordable homes. Donors offer materials and financial support, volunteers provide free labour and families pay an affordable, no-profit mortgage.
To review our application form, please send an email to homepartners@habitat-tt.org or download from HERE.
Please call our office at 674-5977 / 225-8375 / 225-8403 or email homeowners@habitat-tt.org for guidance on our application process and to make appointments to visit the office.  We will not be able to accommodate walk-in visits for the foreseeable future.

Let us see how we can start you and your family on the road to safety, strength and stability!