Throughout the COVID-19 pandemic, Habitat for Humanity prioritises the health and safety of the people in the communities we serve. We also took great care to minimise, and then to eliminate risks as much as is possible, to the staff, volunteers and partners who carry out our mission. Our guidance to Habitat Trinidad & Tobago members throughout this pandemic has been consistent with the Ministry of Health recommendations to help flatten the curve. Now that we have the go-ahead from local authorities to reopen, we can guide the public about the things we have put in place for safe operations. With the commencement of a potentially active hurricane season, we persist in finding ways to help individuals and families to have a safe, stable and healthy place to call home.  
In these unusual times, our stance and actions on access to safe, decent and affordable housing have never been more critical or more desperately needed. Because no one single stakeholder sets our agenda, we can deliver services and supports that benefit the most vulnerable people in our communities, each and every day, as much as our resources and partnerships allow. Free from commercial or other biases, we advocate fearlessly on behalf of the marginalised and vulnerable populations for their fundamental human right to shelter. We challenge our society to truly "… leave no-one behind," as we transition to this new normal, together. With the dominant belief that, with partnerships, we have the strength to create and sustain the impact we require, we affirm our vision of "A World Where Everyone Has a Decent Place to Call Home".
For the families who were already struggling to find adequate and affordable housing, their daily lives have only become more challenging. For others, those who find themselves affected by the economic crisis caused by the COVID-19 pandemic, the future is newly uncertain and to many even frightening.
In Trinidad and Tobago, some 186,000 applicants were on the waiting list for government housing; one in four families could only cover rent, OR medication OR nutritiouçs meals back in February. Now, with more than 38,000 filings for salary relief grants, the situation is far worse. The COVID-19 pandemic is not only a public health crisis — it is a housing crisis. These are the families who now more than ever need the hand up that we can provide. Even in these times — especially in these times — we continue to work tirelessly toward our vision of a world where everyone has a decent place to live.
Habitat for Humanity International has developed detailed guidance to assist its offices and affiliated entities in their decisions and plans for resumption of operations and programs, including construction activity, training and capacity-building operations and offices. We, in Trinidad and Tobago, are keen to resume our resiliency projects, stemming from damages incurred during flooding, land slippage and other weather disasters in the last three years. We expect that full resumption of operations will be a phased approach that will take place over months, not days or weeks. The speed of this transition will depend on our capacity to modify our operations in a way that prioritises safety, while still providing distinct benefits to our homeowners. Throughout this process, we are asking for a posture of maximum flexibility to adapt to changing circumstances in communities and within local activities.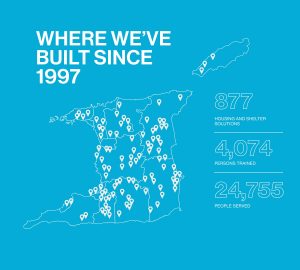 Your support protects our independence. We believe every one of us deserves equal access to decent housing and sustainable land tenure. No matter how unpredictable the future feels, we will stay with you. We will deliver the information and training and services needed so that we can all make critical decisions about our lives, our health and our shelters – based on expert guidance from disaster recovery and mitigation practitioners worldwide.
The future is never promised, although it often can easily feel that way when things are going according to plan. May the turbulence of these days bind us to each other and to our shared mission, which is more important now than it ever has been. Together, we are better. Together, we will get through this. And TOGETHER, we will build back better. 
Every day, on our social media channels and this website, we celebrate the global community that is Habitat for Humanity. We have known the determination and commitment of families, volunteers and supporters for more than 40 years. This vital fuel for our mission feeds us now more than ever. Follow us on Facebook, Twitter, LinkedIn and Instagram. You are sure to be inspired and will learn of additional calls to action. If you have questions about Habitat Trinidad and Tobago's work in your community, please contactus@habitat-tt.org or call or WhatsApp 702-4663.