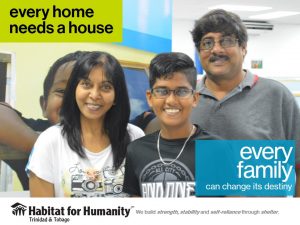 Habitat Trinidad and Tobago believes that everyone deserves to feel safe at home.
But it's safe to say that everyone feels a bit STUCK at home these days.
Everyone that signs up gets a one-year membership to Habitat for Humanity* with great benefits! 
And all proceeds go towards building safe, strong and self-reliant communities across the country.
When we are Healthy @Home together, everybody wins!
* INDIVIDUAL BENEFITS
         * One Year membership at Habitat for Humanity Trinidad & Tobago 
         * 10% discounts on tickets to special events 
•Covenant partners can have tax concessions (conditions apply)
*CORPORATE BENEFITS
         * One Year membership at Habitat for Humanity Trinidad & Tobago  

•10% discounts on tickets for special events
•1 Disaster Risk Reduction training/year
•Priority selection for team building exercises
• 2 construction information sessions for staff
• Staff assessments for Habitat products ( conditions apply)
•Covenant partners can have access to tax concessions (conditions apply)
#wellness #health #fitness #healthylifestyle #selfcare #healthy #motivation #lifestyle #wellbeing #workout #healthyliving #mentalhealth #mindfulness #nonprofit #donate #community #volunteer #nonprofitorganization #giveback #givingtuesday  #fundraising #bethechange #support #dogood #socialgood #fundraiser #philanthropy #change #givingback #makeadifference #habitatforhumanity #virtualrun #volunteer #communities #safestrongselfreliant #housing #StaySafe  #SIQ  #COVID19  #WeAreAllInThisTogether