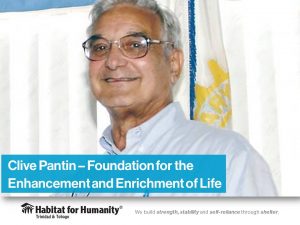 In 1995 Mr Clive Pantin met Millard and Linda Fuller, the founders of Habitat for Humanity in the USA, and discovered the mission of using a community approach to build houses for persons in need of safe and adequate shelter. Inspired by the possibilities for our country, he spent the better part of 1996 mobilizing a team of like-minded persons and rallying supporters to the cause. After long and arduous discussions, he was able to achieve the dream of establishing a Habitat for Humanity affiliate in Trinidad and Tobago in 1997, while still running the Foundation for the Enhancement and Enrichment of Life (FEEL).
Mr. Pantin was very involved as the local founder – attending every Board meeting, supporting our volunteer activities and liaising with Habitat International through the initial teething stages of the young affiliate. His considerable influence was evidenced by Trinidad and Tobago's hosting of Habitat's founders Millard and Linda Fuller at the Latin American and the Caribbean Regional Conference, just one year after our founding.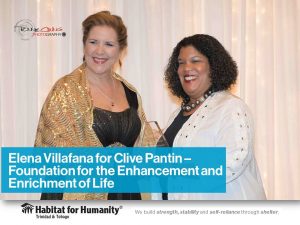 Clive Pantin encouraged alliances with the Trinidad and Tobago Defence Force for volunteer labour, and negotiated the donation of land in Guaico Sangre Grande for our first community-builds on what is now called "Habitat Street". He later handed the fully formed legal entity to Mr Francis O'Neal the first Chairman of the organisation. The Pantin family continued their involvement with Clive's son Thomas Pantin who served on the Advisory Board. To this day, we have maintained a collaborative relationship with FEEL to continue the service to families with food, furniture, clothing and other supports.
Ms Elena Villafana, the CEO for FEEL received the founder's award for the Spirit of Humanity