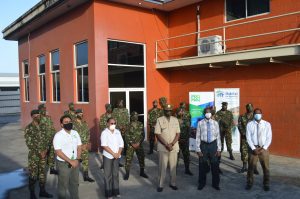 Wallerfield, Trinidad and Tobago, June 2020
Habitat for Humanity Trinidad and Tobago recommenced its local programmes after the Covid-19 lockdown, with the launch of the Home Construction Training Exercise at the Cumuto Barracks of the Trinidad & Tobago Defence Force. The Proman family of companies is backing this project through a multi-year partnership established with Habitat for Humanity International that supports multiple long-term community projects around the world.
A select group from the 1st Engineering Battalion, under the command of Lt. Col. J. Hills, is participating in Single-storey Home Construction training over the next six weeks. The modules, led by construction expert Fleville Tinto, will include intensive theoretical discussions and hands-on practical classes on Habitat construction sites. The participants will also field-test Habitat Trinidad and Tobago's Basic Construction Manual, designed to build skills and resilience within rural communities.
Jennifer Massiah, National Director for Habitat for Humanity Trinidad and Tobago delivered an inspiring message at the opening of the training exercise: "As Andrew Womack once wrote: "You've heard it before: there is strength in numbers. But implicit in that statement is that these numbers work together for mutual advantage. … (and) … the stronger the relationship, the greater the things they can accomplish together. This philosophy is one of the core pillars of Habitat for Humanity's approach to this project and, indeed, to all of our endeavours. The mandate of the 1st Engineering Batallion to respond to local disasters is complemented by Habitat's Humanitarian Shelter Support Role and supported by the deep desire of Proman and the Technical Facilitators to "give back" to the country and the communities in which they work and live."
Fazad Mohammed, Head of Corporate Communication at Proman Trinidad & Tobago, speaking at the launch of the initiative said: "This partnership with Habitat for Humanity and our 1st Engineering Battalion demonstrates our company's continued commitment to the sustainable development of Trinidad and Tobago, particularly focusing on capacity-building and skills development. This is an important foundation for continuing the critical work being executed across the country to enable greater strength, stability and self-reliance through our Habitat for Humanity outreach programs."
This is an opportune moment to work with the 1st Engineering Battalion through this initiative, as they provide engineering support, humanitarian assistance and disaster relief throughout the country, and this specialist training will be particularly useful during the current hurricane season.
 About Proman:
Proman is an integrated industrial group and global leader in natural gas derived products and services. Headquartered in Switzerland, with assets in the United States, Trinidad and Tobago and Oman, and ongoing expansion into Mexico, Proman is the world's second-largest methanol producer and one of the ten leading fertilizer companies. Proman is also a significant services business, with extensive experience in petrochemical plant operations, petrochemical and power plant construction, product marketing and logistics, and project management. The business offers a fully integrated, diversified platform across the whole value chain from the production and conversion of natural gas to the marketing and delivery of end products to its customers.  Proman has been committed to Trinidad and Tobago's energy sector for over 30 years, continually re-investing to expand its portfolio to include methanol, anhydrous ammonia, urea ammonium nitrate and melamine. The Proman family of companies employs over 1,000 employees in the country, accounting for two-thirds of Proman's global workforce.
 About Habitat for Humanity:
We help people in our country transform their lives and their communities by supporting access to affordable shelter. Habitat homeowners build their own homes alongside volunteers and pay an affordable mortgage, and since 1997 hundreds of families in need of a "hand up" have worked with us to build or improve a place they can call home. Thousands more have benefited from shelter initiatives and training in money management, life skills, construction techniques and disaster risk reduction. Through financial support, volunteering or adding a voice to support affordable housing, everyone can help families achieve the strength, stability and self-reliance they need to build better lives for themselves. Donate! Volunteer! Share! Speak Out! Through shelter, we empower! 
For more information, please contact Tracy Hutchinson Wallace, Corporate Communications (WhatsApp +18687024663).