Angela
Swamber
 is visually-impaired; her son Aaron has cerebral palsy and limited mobility. Before they came to Habitat for Humanity, they lived in a dilapidated two-bedroom house, with termite-ridden rafters and gaping holes in the roof itself.  Inside, the house was cold, damp and musty; in front of the lone door, a drain full of stagnant water became a murky pool whenever it rained.
But that has all changed, with the support of Sieunarine Coosal, Habitat's Capital Campaign Cabinet Chairman, and volunteers from home and abroad.  The
Swamber
family recently welcomed the Habitat Trinidad-Tobago team to the Dedication and Key Ceremony.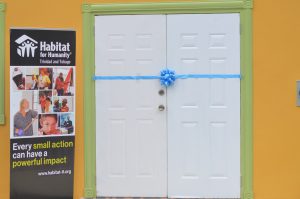 In her own words,
Angela 
Swamber
said, "My Pastor counselled me, he said, "Have faith and keep hoping." And today is proof that my faith and hope in God and Habitat for Humanity were rewarded!"
Sieunarine Coosal: "I've been involved with Habitat for Humanity for many years, culminating in my current position, leading the Capital Campaign Cabinet. My company has supported various social projects in this area for some time, and I was drawn to help Angela and Aaron when I heard of their difficult living situation.  I am very glad to be able to help them with a finished house, complete with modifications to accommodate their needs."
Jennifer Massiah, National Director, Habitat Trinidad and Tobago
: "I want to pay special tribute to Mr. Coosal for his support for Angela and Aaron.  What you see here is not a typical TTD 240,000 home; not only did the Coosals Group provide much of the in-kind materials for construction, the Chairman dipped into his own pocket to "finish" the 
Swamber
home – carpets and tiling, soft furnishings and appliances – so that Aaron and Angela's home is move-in ready.  What a wonderful present for Aaron, to be in comfortable surroundings on his birthday this October, World Habitat Month 2020!"