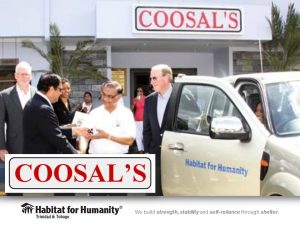 Mr. Sieunarine Coosal joined the Advisory Board in 2006 and then transitioned to the Capital Campaign Cabinet. Along with Ronald Harford, Dominic Hadeed and Gregory Aboud, he is one of the four influential corporate leaders seen in the Habitat Endorsement Videos aired on CCN TV6 to highlight our work in the national community.
During a 2010 meeting to discuss in-kind donations of building material he realised that the National Director and her staff were taking public transportation to visit homeowners, conduct technical visits and attend meetings throughout the islands.  His reaction was swift and unequivocal – "If you are giving, you should only give your best! I am going to donate a Pickup to Habitat and pay the insurance on it for one year!"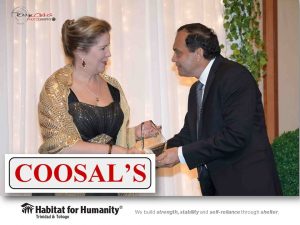 His generous gift immediately increased operational efficiency and reduced transportation costs for our builds. We have also benefited  tremendously from over $1.5 million TT Dollars in blocks, gravel, fill and other construction inputs from Coosal's. Additional support has come from providing space in his office facilities for Habitat workshops, meetings and  trainings throughout the years.