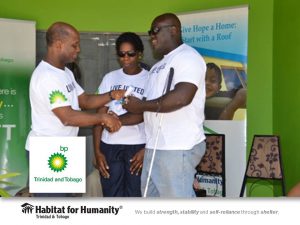 BPTT is one of our earliest donors as they started in 1999 with contributions towards new houses. Habitat also benefited from the donation of a parcel of land during the tenure of the previous Chairman, Robert Riley. In 2011, BPTT commenced a new housing and community development initiative with Habitat in Mayaro.  BPTT's Norman Christie was especially proud of this collaborative effort, saying on that occasion, "Just as a foundation is essential for each of the houses that will be built; so too are we building a foundation for growth through this partnership with Habitat. Persons might say that we pay enough in taxes and to just go about our business, but we at BPTT see our business as positively impacting the lives of every single person in this country. When we find organisations like Habitat that share our energy and vision, we are happy to collaborate with them."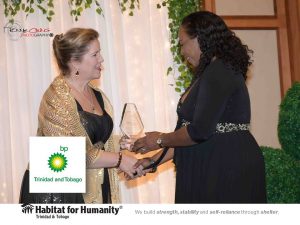 BPTT staff comes out to volunteer 1-2 times a year, led by Mr Christie, and they stay very involved with their families during and after construction, signalling a truly caring company.
Ms. Ronda Francis, Manager Corporate Responsibility, Communications and External Events, and the first National Coordinator of Habitat accepted the award on behalf of BPTT.
Photo Gallery: BPTT with the Raymond Family