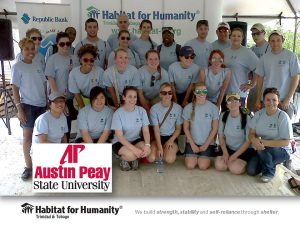 In 2012, Professor Matthew Kenney of Austin Peay State University from Tennessee led his first team of students to Trinidad, a relatively large group of 22 young people eager to experience a different culture while giving back. This is a mandatory requirement for the "President's Emerging Leaders Scholarship Program", which helps prepare students at APSU for a lifetime of leadership.
The visits have continued every year since, and so far we have hosted 156 international students and tutors volunteering on sites in Trinidad and Tobago.  This complement to our Global Village programme allows for international volunteers working 5 days on a construction site, paying their own flight, room and board, and making a financial donation to the programme.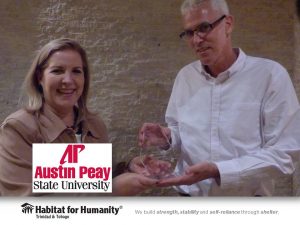 Teams from Austin Peay have contributed more than 85,000 US Dollars to Habitat Trinidad and Tobago over the years. The latest group completed their second trip to Trinidad in March 2017, where they worked on a Landslide Mitigation Retaining Wall Project in Moriah, Tobago. Previous groups have conducted community seminars on empowerment for women, worked with pre-schoolers at an Early Childhood Care and Education Centre and participated in workshops with the Trinidad and Tobago Red Cross SOciety and the University of the West Indies at St. Augustine.
Photo Gallery: Working with Mark in Cashew Gardens
509th House with Damani in La Romaine