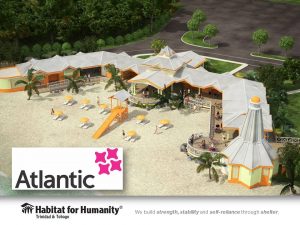 Atlantic started their journey with Habitat in 2009 with the desire to not just build houses, but also to invest in developing communities. This allowed Habitat to think outside the box on how we serve. With an investment of TT$10 million dollars, Atlantic has supported the repair, renovation and construction of houses, built the Guapo Beach Facility, and championed corporate community intervention in Trinidad and Tobago. Under the distinguished leadership of Mr Nigel Darlow, Mr. Gordon Dean, Mr Oscar Prieto, and other team members of Atlantic a wide variety of projects came to fruition.
Together with community leaders in Southern Gardens, a Village council was constituted, Habitat advocated on land matters for the community, and Atlantic supported Habitat's request to the Point Fortin Borough for improved social and environmental services such as garbage collection and postal services for this community. Additionally, Atlantic's direct funding built a bus shed, erected a community notice board, and sponsored a children's camp, swimming classes, food production and landscaping training for residents.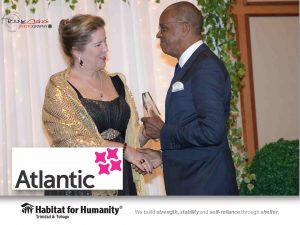 This Spirit of Humanity award to a pioneer in Corporate Social Responsibility, was received by Terrence Walker, Advisor to Mr. Nigel Darlow, CEO of Atlantic.
Photo Gallery: Atlantic Interns paint with Arnette