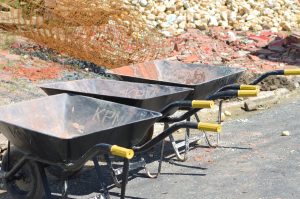 Indarjit, his wife and four children lived in a leaking 10ft. x 20ft. wooden structure in central Trinidad. Without indoor plumbing, this family of six used an outdoor latrine, and rainwater was used for bathing and washing dishes outdoors.  Their kitchen had one appliance – an old stove that had seen better days.
The former taxi driver was unable to work fully after suffering several heart attacks, but his main concern was his three daughters, all of whom had been diagnosed with breast cancer.  These critical medical conditions caused desperate financial hardships to the family struggling to live on a very modest income.
Indarjit and his family turned to Habitat for assistance.  With the help of seed money from Phoenix Park Gas Processors, the family began construction on their new home.
They worked hard to make their dream home a reality, toiling side-by-side with volunteers from Phoenix Park management and staff, and completing the house with the help of the visiting Canadian Navy Vessel, the HMCS Fredericton.