"

Ladies and gentlemen TT$ 58.5 Million is an ambitious goal, but a necessary one if we are to be the catalyst that is needed to propel Trinidad and Tobago forward to a place where safe and affordable is provided for all!"
With these words, Sieunarine Coosal issued a clarion call to the national community to support Habitat for Humanity Trinidad and Tobago's Capital Campaign 2020-2024.
In a short ceremony on February 13th at the Courtyard Marriott, the business magnate celebrated the work of the first campaign (2012-2018) and accepted the baton of leadership from Ronald Harford, retired Chairman of Republic Bank, to guide this major fundraising drive.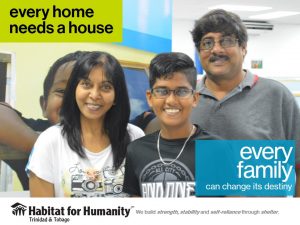 Habitat Trinidad and Tobago will serve the country through:
Housing solutions – 550
Training  (Individuals) – 2500
Families served – 3000
Total national impact – 15000 people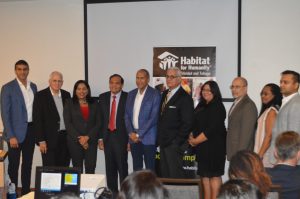 Influential members of the business community have already signed on to the task.  The members working with Cabinet Chairman Coosal are:
·         Gregory Aboud
·         Dominic Hadeed
·         Eugene Tiah
·         Dawn Thomas
·         Nicholas Lok Jack
·         Shaun Rampersad
·         Gabriel Faria
Benefits
Greater publicity for you /your organisation
Clear public alignment (locally and regionally) with the National Development Strategy and the United Nations Sustainable Development Goals
Assisting Habitat to expand its reach locally and regionally
Corporate Social Responsibility promoted through significant IMPACT in the local context

Reduce the number of families, especially children exposed to communicable diseases
Increase the number of families especially children exposed to educational opportunities
Provide shelter for the poor who would otherwise not have such access
What can you do?
Share your valuable counsel and feedback of the initiative
Endorse Habitat Trinidad and Tobago especially this initiative
Commit to serving for a specific time frame
Demonstrate leadership especially with recruiting peers to participate
Offer your personal endorsement and investment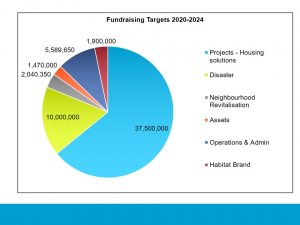 Funding priorities – To raise approximately TT$58.5M in 5 years:-
TT$ 37,500,000       Local Housing programme to serve 550 – 64.1%
TT$ 10,000,000       Caribbean Initiative – Disaster Mitigation and Response – 17.1%
TT$  2,040.350         Neighbourhood Revitalisation and Resilient Communities 3.5%
TT$  1,470,000         Assets: To enhance assets & construction capabilities – 2.5%
TT$  5,589,650         Operations and Administration:  – 9.6%
TT$  1,900,000         Habitat – Branding – 3.2%