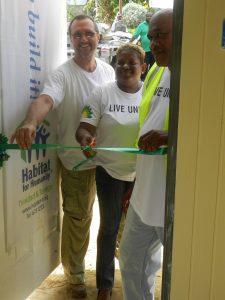 Anthony, a hardworking father, and his wife Sasha (who Anthony calls "the rock of the family") lived with their three children (ages 2, 7 and 16) in a one-bedroom wooden structure.
Anthony and his family have been on their land for over 10 years.  It was with great determination and hard work that "little by little" Anthony was able to build a livable structure for his family.
However, as years passed, their house started to deteriorate; the roof leaked and part of the house was termite-infested.  Anthony tried constantly to make his house more decent, but the family could barely make ends meet with his meagre wage as an insect vector control agent.
Habitat, BPTT and 77 volunteers from Canada, the US, National Quarries and BPTT came together to help Anthony and Sasha build a new 3-bedroom steel frame home for their family, dedicated at the annual National Day of Caring in 2014.