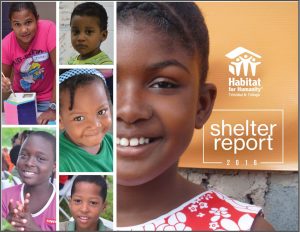 Derwin Howell, Board Chairman: "At Habitat for Humanity, we believe that the key to making a real and lasting social transformation lies in
advocating for improved access to land for shelter.  We are taking the lead in civil society in Trinidad and Tobago in calling for changes to legislation and regulations to support access to land for families in our country. Habitat has also formed key strategic partnerships with a focus toward creating greater access to land ownership, and we urge everyone in our country to join us in this cause."
By advocating for universal decent housing, we seek to alter the systems that reinforce barriers to decent housing and to make affordable housing a reality for all.
Download from here or view online when you click the cover photo.