Habitat for Humanity Trinidad and Tobago is recruiting for one of our key positions within the organization!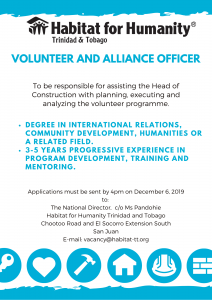 Download the vacancy details here:
Volunteer and Alliance Officer
Applications will be accepted until 4:00pm on December 6 2019.
See directions to the office below:
Google Maps: Please enter the following coordinates into your GPS or navigational Aid: 10.628398,-61.451394
DRIVERS:
From the West – Exit the Churchill Roosevelt Highway at Aranjuez North, and proceed along the Aranjuez Flyover to Aranjuez South. Go around the roundabout to head west, on Garden Road. Turn left at the Trinidad and Tobago Police Service Divisional Headquarters, and follow Chootoo Road to the next junction. You will see Habitat for Humanity above the Yufe's Retail Store.
From the East – Exit the Churchill Roosevelt Highway at El Socorro Waterworks, and follow the road past the El Socorro South ECCE and Primary School to the Chootoo Road junction. Habitat Trinidad and Tobago occupies the upper floor of Yufe's Retail Store.
PEDESTRIANS:
At the San Juan / Croisée, cross to the southern side of the Bus Route, and ask the taxis to take you "Over the Highway", to Chootoo Road and the Yufe's Retail Store".
___________________________________________________________________________