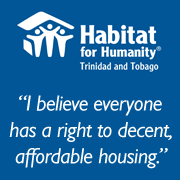 Habitat for Humanity® Trinidad and Tobago (Habitat Trinidad-Tobago) is a non-profit, non-governmental housing organisation, working in Trinidad and Tobago since 1997. We build and renovate safe decent and affordable homes in partnership with families whose household income is so low that they cannot qualify for commercial loans or benefit from the facilities of the Housing Development Corporation (HDC) or Trinidad Mortgage Finance Company (TTMF). We also assist communities with the skills necessary to become successful homeowners. With an estimated 250,000 families living in informal and inadequate housing in Trinidad and Tobago[1], it could take up to 30 years to alleviate the current need for affordable shelter.  Habitat Trinidad and Tobago actively brings government, private sector and other stakeholders together to change the legislation, systems and policies that currently make affordable housing a reality only for a privileged few.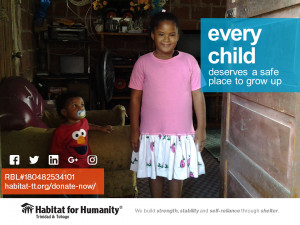 Our vision is a world where everyone has a decent, affordable place to live. People in your community, and all over the world, partner with Habitat for Humanity to build or improve a place they can call home. Habitat homeowners help build their own homes alongside volunteers and pay an affordable mortgage. With our help, Habitat homeowners achieve the strength, stability and independence they need to build a better life for themselves and their families.
All Habitat Trinidad and Tobago Homeowners agree to pay an affordable mortgage, formalized by a signed, legal loan agreement. We also provide alternative shelter solutions for potential Homeowners depending on the need and the land tenure circumstances of the families – materials-only, repairs, renovations, technical services and other micro-finance products.   Construction and materials funding is raised through corporate and individual donations, and in all cases, each family pays a small amount over the course of the 3- to 30-year mortgage period.
[1]IADB and Ministry of Housing & Urban Development, Government of the Republic of Trinidad & Tobago, 2015
Habitat for Humanity International has helped more than 4 million people construct, rehabilitate or preserve homes since 1976, and supports a variety of funding models that enable families with limited resources to make needed improvements on their homes as their time and resources allow. Here in  Trinidad and Tobago, we have provided 877 housing and shelter solutions, served more than 2,500 families and over 24,000 persons through housing initiatives, financial, technical and life skills training, and disaster risk reduction programmes. You can learn more about our work here!
Habitat for Humanity® Trinidad and Tobago advocates for the most vulnerable members of our society, focusing on the impact of safe, decent, affordable shelter on building strength, stability and self-reliance in our communities.  Our shelter programmes and complementary initiatives bring together volunteers, donors and technical expertise from around the world to:
Highlight the issues of housing access and the effects on vulnerable persons to the national audience.
Reflect on the cause of adequate and affordable shelter and share ideas on how we in Trinidad and Tobago can make this a topic of national action.
Help promote food security among Habitat Home Owners
Raise funds for a variety of housing solutions, including new homes, repairs and renovations or materials only projects.
Participate in construction and painting projects benefiting families throughout the country.
In addition to building and or renovating homes, we contribute to community development through individual capacity-building projects – financial literacy, construction skills training, disaster mitigation and disaster risk reduction initiatives.
We serve families whose combined monthly income does not exceed TT$8,000. Essentially, we can help persons who are not likely to qualify for loans from commercial lending institutions, whether due to advanced age or low-income levels.  Our house costs are comparatively low because of our highly subsidized operations and substantial volunteer labour input.  We provide non-profit loans, and our loan repayment can spread over 30 years, so the Home Owner can pay an average of TT$700 monthly on a loan of TT$150,000.