What a wonderful day!   Dozens of women descended on Sangre Grande on October 28th to paint Kathy's home!   You can see the first photos here on our Facebook Page, but here's a teaser…..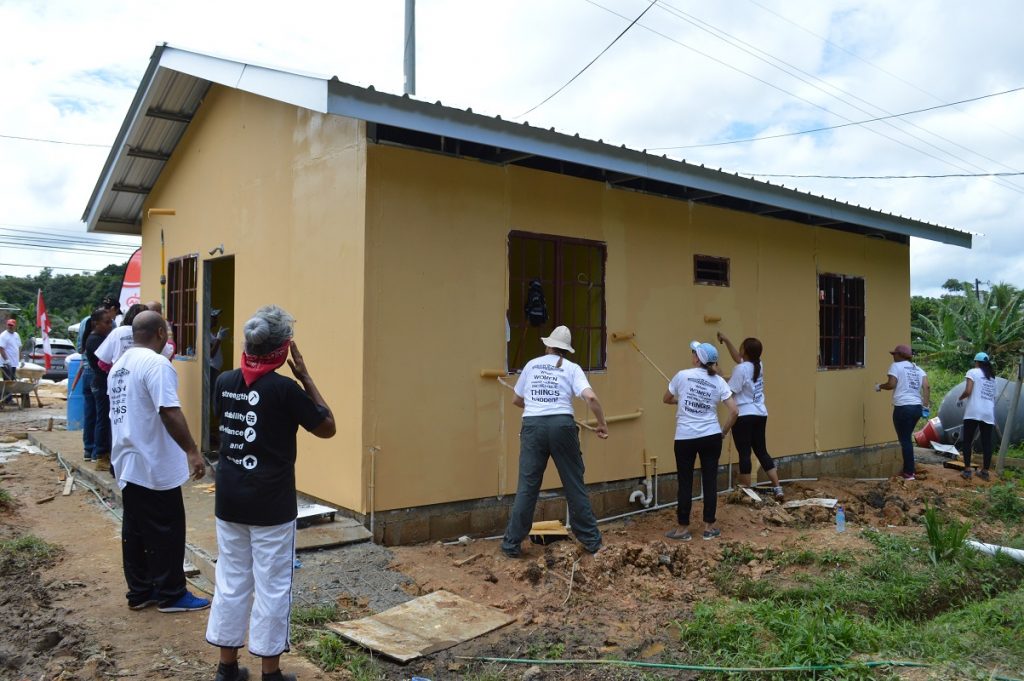 *************************************************************************************************************************************************
BACKGROUND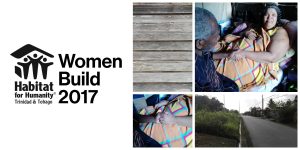 Women Build 2017 will help our future Homeowner, Kathy, provide a safe, stable and familiar environment for her family to live independently and in security.  Led by Her Excellency, Mrs. Carla Hogan Rufelds, High Commissioner of Canada to Trinidad and Tobago, prominent and influential women leaders from every sector will come together on several work days throughout the entire month of October, with the intention of handing over the keys to a finished home for Kathy.  With the help of the diplomatic corps, business, government, academia, the arts and civil society, Kathy and her husband will soon move into a safe, decent and stable home.  Habitat Trinidad and Tobago is encouraging women leaders to join hearts and hands to make a difference and transmit a positive message of hope and empowerment to the most vulnerable in our society. We hope that our women leaders will add their bit as we transform society through partnerships and solidarity.
Please register for the Women Build here
Please download the Habitat Trinidad-Tobago Volunteer Handbook – Women Build 2017
KATHY'S STORY
"A breath of sunshine …"
Kathy Ann is an applicant who has been in the Habitat for Humanity system since 2009. She is married to Ellery, whom she's known since they were teenagers.  Her husband is a physically challenged pensioner who suffers from hearing and speech impairments. It is clear he adores his wife, and he is loud in his praise for her selflessness, resilience and cheerful attitude to life.
"I have known about Habitat for Humanity for a long time!  I remember watching an Oprah Winfrey show in 2005, talking about Jon Bon Jovi building a house with Habitat for Humanity, and I know about President Carter's work with the organisation.
I was born in San Fernando and we lived in various parts of Trinidad and Tobago throughout my childhood.  I was injured in a car accident in 1974 – I was thrown from the vehicle and my spine was damaged.  Because of that I was unable to walk very far, or stand for long periods of time.  Although that limited my employment opportunities, I tried to be active in the community, and I was even able to serve as a Vice President of The National Parent Teachers' Association. In 2012, the floor gave away under my feet and I fell and aggravated the old injury.  Now I use a wheel chair when I can, but I am mostly confined to this bed.  I cannot walk unaided, and it takes me a good few minutes for my husband to help me outside.
I would love to build the house closer to the front of the property, so that I can get into the wheelchair and maybe sit outside in the sun, in a little garden some day.
Habitat for Humanity IS full of humanity – I know and I have seen for myself, people who have been helped by Habitat.   The difference that a home makes in a life is almost indescribable. Safety, security, love, hope for the future, all of that comes with a good healthy place to live.
It was such a shock to hear that only women will be working on my house.  Ladies, I am speechless to know that you will all be helping me. Hurray for Women Power!  I'm a bit shy, but I want to say "Thank you, thank you, THANK YOU!"  I am so grateful for the love and support, thank you all for taking the time out of your schedule to help someone like me.   I am a bit choked up just thinking about it.  You Go Girls!"
Kathy's personal "Thank you!" to our volunteers!
LOCATION:
Google Maps Reference: https://goo.gl/maps/eTpnhYfq6X72
Directions:
From the Churchill Roosevelt Highway, turn left onto to Antigua Road
Turn right onto Barbuda Road
Continue onto Valencia Bypass Road
At the Roundabout, take the second exit and stayon the Valencia Bypass Road
At the next roundabout, take the secodn exit onto Easten Main Road
Take Railway Extension and Ramoutar to Foster Road in Oropouche.
Smartphone Directions from:
Independence Square, POS:  https://goo.gl/kf6Rsd
Harris Promenade, San Fernando: https://goo.gl/LJTdi2
Price Plaza, Chaguanas: https://goo.gl/wkhvuh
These directions are for planning purposes only. You may find that construction projects, traffic, weather, or other events may cause conditions to differ from the map results, and you should plan your route accordingly. You must obey all signs or notices regarding your route.