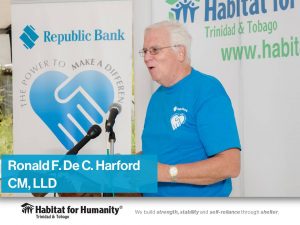 Mr. Harford started his journey with Habitat as a distinguished member of the Advisory Board over ten (10) years ago. Given Mr Harford's passion for housing those living in poor conditions, he was later asked to chair the Capital Campaign Committee, a task which demanded an extensive amount of time – the initial commitment of 6 months grew to 5 years! Mr. Harford wanted to ensure that Trinidad and Tobago launch and execute a successful capital campaign, the first of its kind in the Caribbean. The main mandate was to raise funds to exponentially increase the number of our housing solutions, and with our Champion's support we succeeded – in March 2017 we painted and dedicated our 509th housing solution!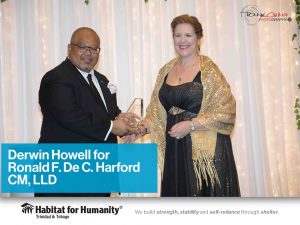 Mr. Harford is a champion for universal housing, frequently present at Habitat builds or meeting members of the business community to enlist their support for adequate housing for all. He dares to see the possibilities of changing the language of philanthropy and is never afraid to ask his peers to support the mission with hearts and pockets, leading by example through his involvement with Republic Bank.
Derwin Howell, Executive Director of Republic Bank Limited, accepted the award on Mr. Harford's behalf.