Over the last several days, Hurricane Irma and associated rainfall have caused unprecedented severe flooding and wind damage in several Caribbean islands, forcing emergency evacuations and damaging many homes in communities we serve.
Sadly, this is not the first time that CARICOM has faced this kind of disaster, and we as a regional community are reacting!
FAMILIES NEED YOUR HELP MORE THAN EVER NOW.
Give today and your donation will be dedicated to our efforts in the affected islands. Please don't wait — help us turn this setback into a step forward for families in need with your generous gift.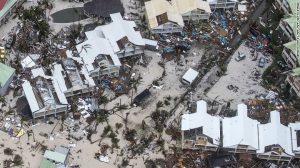 Habitat for Humanity Trinidad and Tobago has responded to natural disasters here and abroad for over 20 years, working in close partnership with families and local organizations during what is often the most difficult time in their lives.
YOUR SUPPORT TODAY will help with what will undoubtedly be a long-term recovery, and unfortunately, the emergency phase is just one of many that these families have to withstand. Stand with us and help these families through a long recovery. With your help, we will rebuild countless communities.
These families are counting on us. Please, make a generous donation today and help these families receive the decent and stable shelter they need.
Thank you for your continued support of Habitat Trinidad & Tobago and the people affected by Caribbean hurricanes.
If you wish to help with materials or professional services to support the relief and recovery efforts, please contact the National Director at 674-2031 or 742-4663 or email us at contactus@habitat-tt.org
Habitat Trinidad-Tobago shall make every effort to use funds as designated; nevertheless, under the direction of the Board of Directors, Habitat Trinidad and Tobago retains complete control over the use and distribution of donated funds in furtherance of its mission.