To register: https://goo.gl/forms/XpoGz9LU5PtYFmIk1
donate@habitat-tt.org or contactus@habitat-tt.org
What is Walking Football?
In essence, football without running that more closely resembles the five-a- side than 11-a-side game. It was invented to inspire persons with limited mobility to get more exercise and people who play have seen many benefits: lower heart rate and blood pressure, less fat and more muscle, and better mobility. And it's not just the health advantages – Walking football also offers social benefits. Participants can meet new people, avoid the growing isolation that can happen as they age, and interact with individuals and small groups.  It's designed to help people get fit or maintain an active lifestyle no matter what their age and fitness.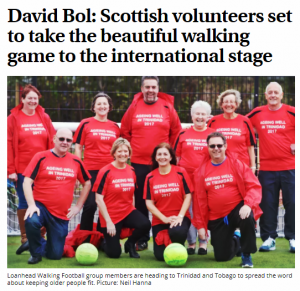 Midlothian Football Team
Our visitors are the Midlothian Football Team and they are headed by Vivian Wallace, the Ageing Well Coordinator. The team will work on a Habitat project for three days (Monday to Wednesday). They will also spend some time in a school community where they will interact with the children and have a small coaching session.