An open-air brunch with traditional local sweets, breakfast and lunch savouries, and local gourmet drinks, liming by the sea with family and friends. Vendors "selling" coconut water and corn soup, calypso classics and extempo favourites. Call now to reserve your tickets!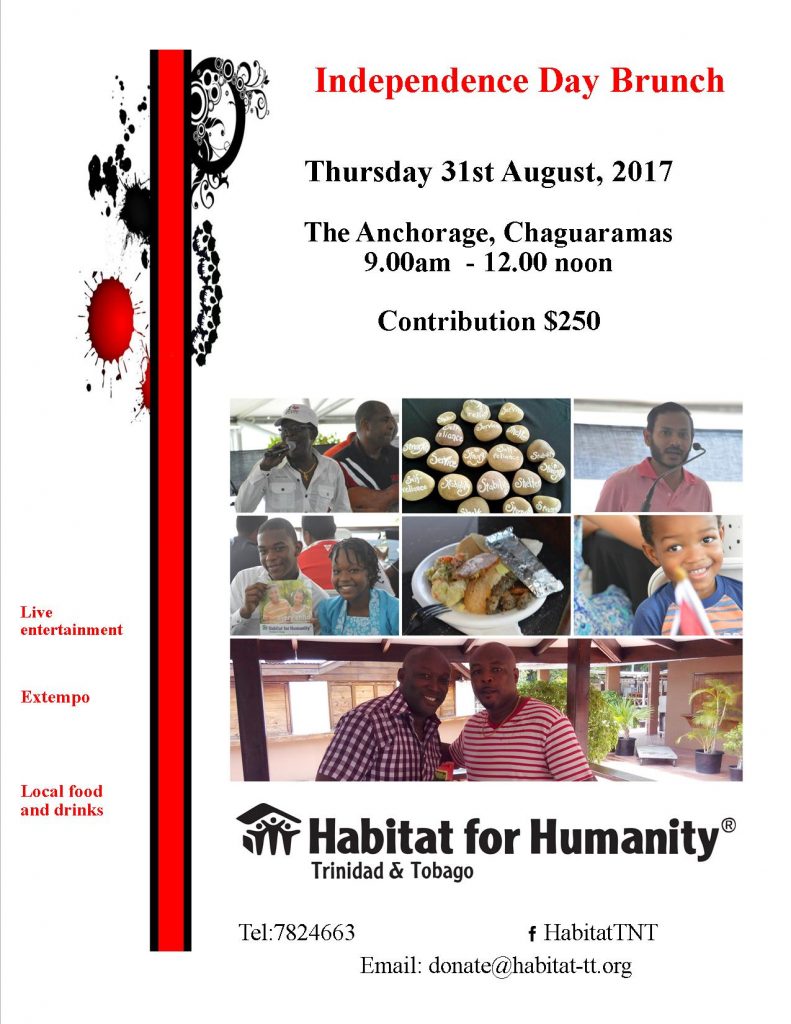 #HabitatTnT #HabitatTandT #BuildTandT
As Trinidad and Tobago celebrate our Independence, we recognize that as a nation we have made many significant strides towards becoming a developed country. Sadly, as with most countries around the world, there is still a great deal to be done to address basic needs in our society. We know that no entity standing alone can solve these problems. We need EVERYONE to help if we are to give families the chance to build Strength, Stability and Self-Reliance while transforming their lives. This is where YOU can make a difference!
If you are proud to be a Trini and wish to support our efforts while giving something back 'to home', please join us on Thursday, August 31st at our Independence Day Brunch and make a contribution to our mission to give everyone a decent and affordable home.
We will have live interviews with Habitat Homeowners, Staff, Board Members and Supporters – you will be able to talk to us and ask questions about the great work we do here! Chat with us on Facebook and Google+ from 9.30am EST
You can also visit our online-donation page at Habitat Trinidad-Tobago and make your own secured online controbution (tax-deductible for the US). Please be sure to designate your gift to the "Country of Trinidad and Tobago" (lower left corner of the donation page).
We encourage you to visit our website at www.habitat-tt.org to learn more about our work and you also have the opportunity to follow us on Facebook at facebook.com/HabitatTNT or on twitter @habitatTNT.  HAve a look at some of last year's memories here!
In true Trini style, please spread the word and tell all your family and friends about this effort. We look forward to having you join us in TnT to help provide shelters for families in need of decent housing.